At Capacity
Jr. Wizards Game Day Clinic - 12.28.18 vs Chicago Bulls - 90 Minute Clinic Basketball · Co-Ed
Sold Out
MonTueWedThuFriSatSun 3:30pm to 6:00pm
Participant Fees

Regular

$65.00

+ $3.00 Processing Fee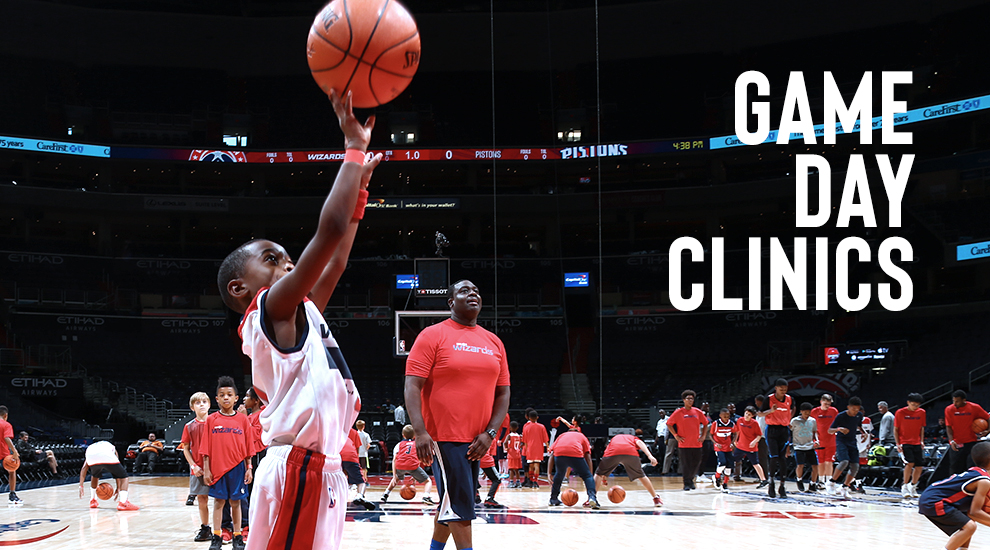 Join us for a 90 minute basketball clinic on the game court at Capital One Arena prior to the December 28th home game against the Chicago Bulls.
All participants will receive a 400 level ticket to that night's game. Participants will also receive an Under Armour Jr. Wizards t-shirt.
Additional tickets for friends and family can be purchased at the end of the registration process at a discounted rate (everyone entering Capital One Arena needs a ticket).
In addition to the 90 minutes on the game court, all participants will also be able to watch pregame warm-ups from the lower bowl, prior to doors opening to the general public.
Date: Friday December 28, 2018
Time:
Clinic: 3:30 P.M. to 5:00 P.M. (90 minutes! Jr. Wizards Game Day Clinics are normally 60 minutes)
Early Access: 5:00 P.M. to approximately 5:50 P.M.
Tip: 7:00 P.M.
Please plan on arriving by 3:15 P.M.

Location: Capital One Arena Game Court
Cost: $65 per player.
Ages: Boys & Girls ages 6 to 14

FAQ
Can I only attend the clinic (and not the game)?
Jr. Wizards Game Day Clinics are linked to that day's game. Consider it another way of buying a ticket, only with the added bonus of having your child participate in a special on court clinic beforehand. Thus everyone accompanying the child into the clinic does require a game ticket as well. There are no "Clinic Only" options.
My plans changed - can I get a refund?
The clinic portion of the event is refundable up to 48 hours before the start of the clinic. Any additional tickets purchased, or upgraded seats, are non-refundable.